The Everest Dash is designed to keep key functions, Food Safety and Quality top of mind for staff and management. The system has been designed to make shift management & decision making easier.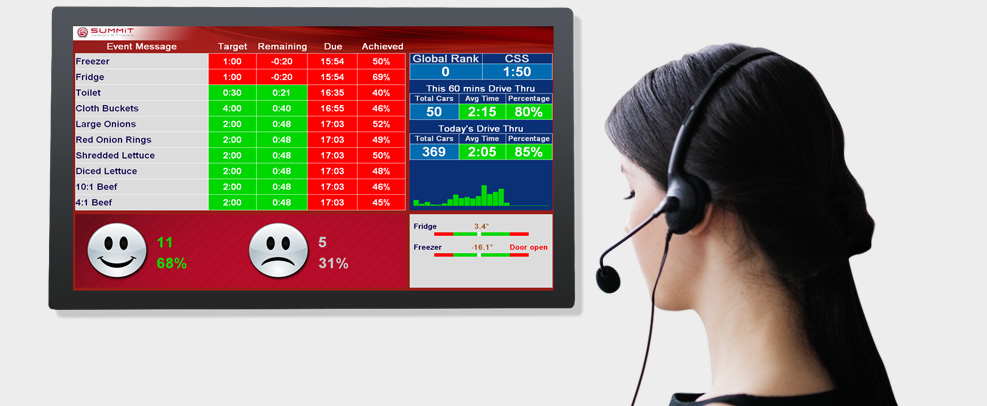 This dynamic, client specific system has many functions with the ability to develop many more depending on the need of the business. The Everest Dash pulls it all together on one screen. The Everest Dash displays the following restaurant operational information.
Quality time for freshness. Managing the secondary shelf life of fresh products such as lettuce holding times at prep tables
Food Safety Requirements for managing key food products and hold times
Live and dynamic temperature information for your chilled, frozen and warmer facilities. This will display the current temperature and alert should the temperature fall outside of acceptable range.
Display summary information of drive thru related results, including specific brand related information
Collate and display live customer feedback using the SSS product ( Summit Satisfaction System )
Rank Shift Manager performance on pre-determined basis. For example drive thru results for Week to date or Month to date.
Report using the Summit Dynamic Reporting Platform
Remote accessibility
Designed for QA department to pull critical information from remote head office locations
Designed for information to be available on iPhone, iPad and Android devices
Fully integratable with fridge, freezer and warmer systems
The Everest Dash displays the critical information in line with company requirements and standards. Products with shelf times will display in order of expiry, with the closest to expire at the top of the list. Once a product reached a determined point for example 5 minutes until it expires it will reflect an orange color. Once it exceeds its shelf life it will reflect Red. This can come with audio or simply the color and dynamic screen to attract shift management attention.
The critical temperature points will track the daily progress and live information of these areas. The system will provide an alert should a temperature fall outside the desired range. A detailed reporting function will be available to review past readings and performance of the temperature controlled areas.