The Summit COD is designed in Australia to cope with the harsh conditions that span across the globe. From the heat, to the freezing temperatures.
The system is controlled by the Summit Platinum Pure Timing system, enabling excellent content control, remote serviceability and even the ability to change language and images from any location in the world.
CODs have the ability to significantly enhance order accuracy and build sales through subliminal marketing. The Summit Innovations COD enables brands to update content, change register language and even enable it to suggest add on items when particular items have been ordered. For example if you order a standard burger, the system can display drink or side options. If your customer orders a meal, then complementary add on's will be displayed.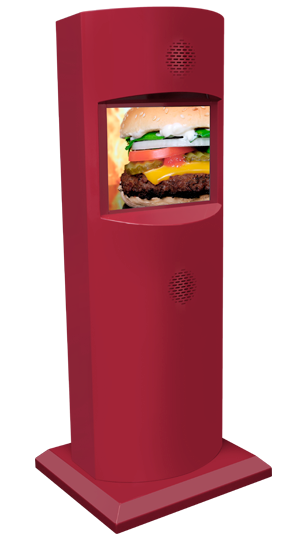 ---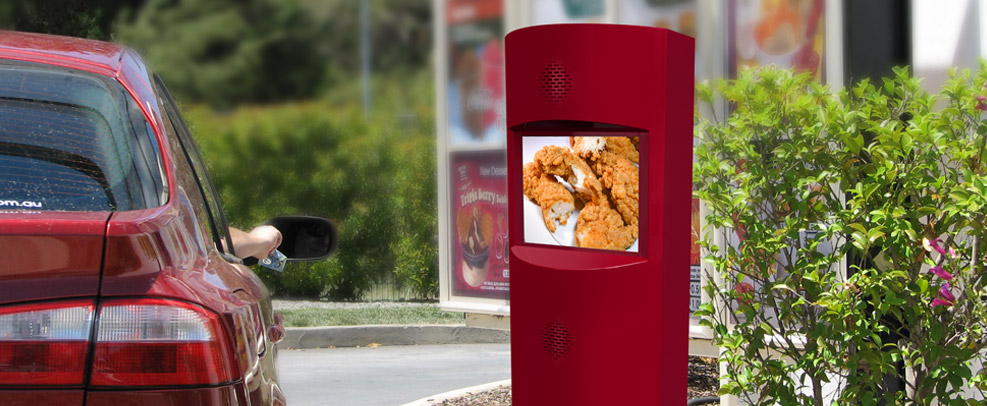 FEATURES EXTRA LARGE DISPLAY SCREEN!
The Summit COD incorporates the following innovative features:
Customer friendly visual display – showing the customers order, price, graphics and up sell opportunities.
Bright TFT screen technology – to assist with a sharper, clearer, easy to read display in all types of environments.
Large font size – for clearer viewing and reduced ordering problems caused by small hard to read font.
High quality graphics – to promote your company's product and brand.
Up Sell marketing graphics – for increasing sales and profit margins.
Easy to use software – allows easy editing of content for display at the order point.
Personalised drive thru – which supplies a visual image from the order point to the COD.
Important feature to note: no PC is remotely located at the COD.
The Summit Dynamic Ranking system report provides an in depth analysis on the performance of the drive thru system by supplying a full breakdown including entire results, each monitored point on the drive thru at any moment of the day, 7 days a week.