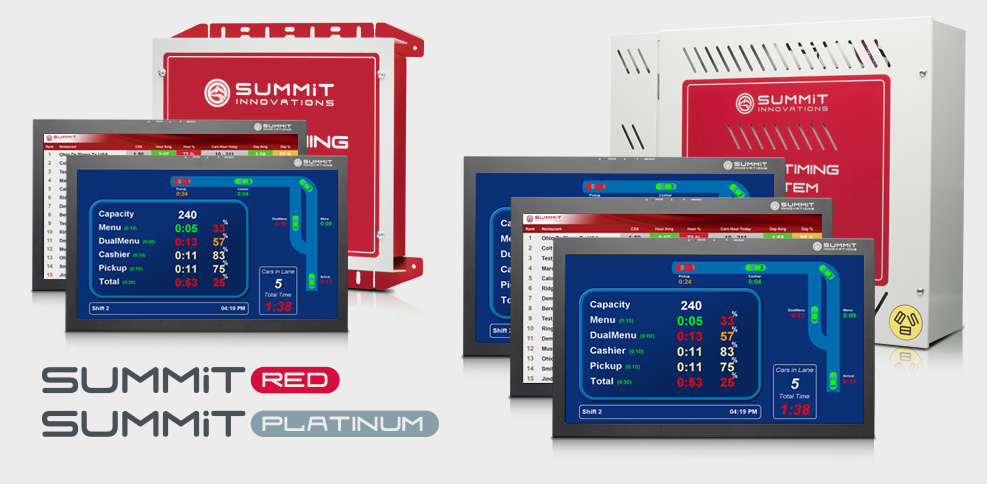 The Summit Platinum Pure Timing System displays drive thru events in real time with pictorial layouts of the actual drive thru.
Cars are displayed moving in the drive thru in any configuration or style; single, tandem or dual lane. The lane will match the actual site specific layout.
The Summit Pure Timing system offers world leading technology and functions that enable drive thru operations to reach their potential. The intelligently designed images match the layout and actual activity of the drive thru. This system provides as it happens data and interactions to make decisions easier and more effective. This is a game changer for operations and engagement. It shows details such as how long cars are at each point. The system can also track your waiting bays, providing further tools for improved operations
Car movements are displayed in real time: This data includes number of cars, location in the drive thru lane and their current service time at each point including the waiting bay.
The Summit Platinum Pure Timing System has the capacity to connect up to 8 waiting bay loops depending on the system required and ordered. This is the only timer system available on the market that can count and manage waiting bays!
---

The ultimate Pure Timing System, combining all of Summit's innovative technologies.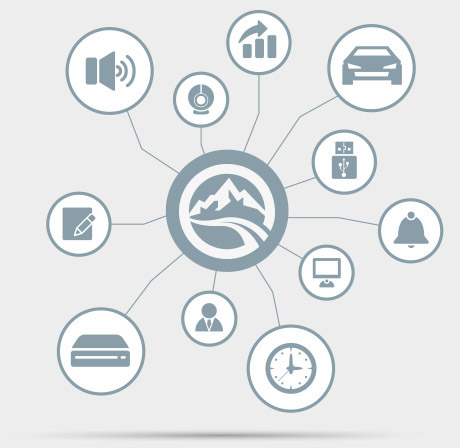 The Summit Pure Timing System Platinum utilises all of our leading technologies to deliver a comprehensive drive thru management and reporting system, delivering unparalleled performance, dynamic functions and mobile reporting. The complete PTS Platinum system includes:
Head Office National Reporting
Summit STIQUI Timer
Drive Thru Audio Box System
Summit National Ranking
Customer Order Display (COD)
Everest Performance Dash
Global Reporting Platform
Summit Satisfaction System (SSS)
Remote Comprehensive Reporting
Summit Production Quality Management System
USB Detector Loop Management
---

An advanced system of essential drive thru management technologies and reporting.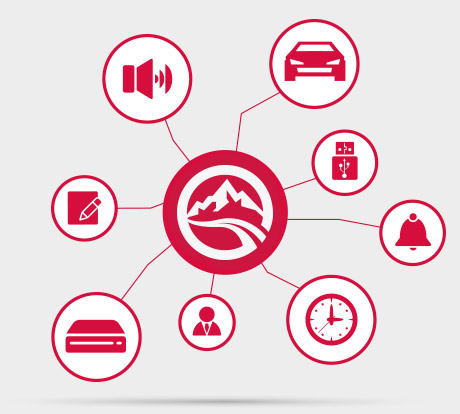 The Summit Pure Timing System Red includes key core elements of the drive thru management network, giving you a cost effective system perfect for operating and managing small retail and QSR applications. This system has been designed to offer a range of high performance features, available to be integrated into an existing system. The complete PTS Red system includes:
Head Office National Reporting
Summit STIQUI Timer
Drive Thru Audio Box System
Summit National Ranking
Global Reporting Platform
Remote Comprehensive Reporting
USB Detector Loop Management
---
An innovative combination of world class features
Real time visual monitors
1 to 12 voltage free inputs
1 to 8 digital monitor outputs
Warning tones
Verbal recorded messages
LCD colour screens
User friendly software
Printable reports options
Windows software upgrades available
100% Australian designed, built and owned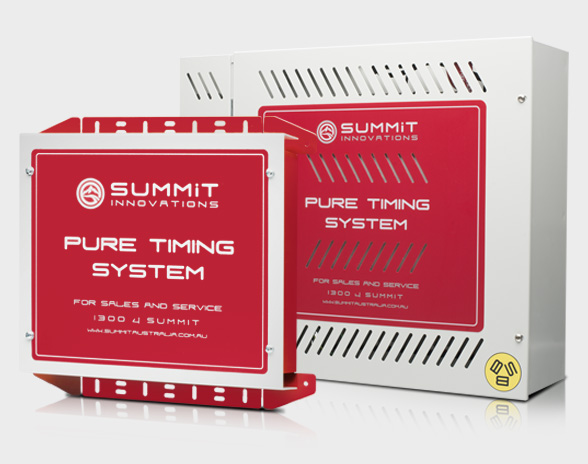 ---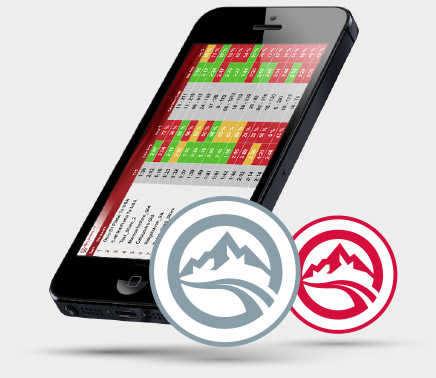 Mobile compatibility
Summit's Dynamic ranking system is designed to accommodate operations across the world. With ability to pull any country across the globe live onto the one screen… What's even more exciting all this information is available at the touch of your fingers. The Summit reporting platform is also world leading with access to your reports and live timer via the tablet and smartphone applications. For example you can simply download the app from iTunes for your iPhone or iPad. Not only can you access as it happens reports in the restaurant, but you can do so from all corners of the globe. This functionality is changing how operators manage multi-site operations.
---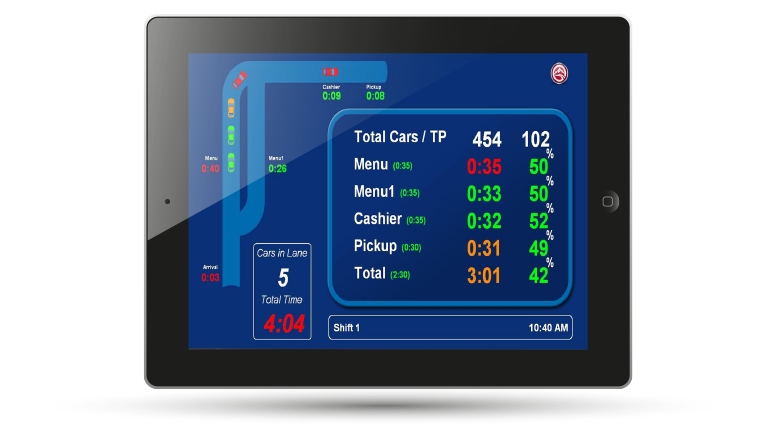 Every vehicle that enters the drive thru is individually displayed and timed at each point / loop in the drive thru lane; including waiting bays.
This vital information is displayed on the LCD monitor and the quantity of display monitors is infinitely scalable. Each specific monitor installed may be individually configured to include display times such as Current and Average times as well as the stores expected Service Goal.
Specific goals and targets are set with the live results displayed areas like your drive thru window, your production area and now on your tablet and smart phone. These goals are indicated through the use of colour , percentages and audio tones. They are designed to make decision making easier and more effective.
Information on the screen is colour coded e.g. green, within average time, yellow; indicating potential SOS time issues, red identifies times exceeding your QSR service goal service. Waiting bay information can be assigned to a separate screen and this screen in turn can be located anywhere within the store to improve operational Speed of Service (SOS). If a vehicle exceeds its specified time, an alert tone is triggered, that image of the car changes colour from green to red to emphasise the car as it moves along the drive thru lane. Staff will instantly be made aware of the problem, moving their focus to improve the drive thru operation and condition.
The system through the use of colour, movement and audio appeals to the senses of shift managers and crew, which creates an environment for operational excellence. Along side this advanced Pure Timing System is the Summit Dynamic ranking system. This systems displays live, as it happens results for other drive thru operations. So you can see how other restaurants are performing, creating a healthy environment of competition. This in itself is revolutionising drive thru operations and culture. Restaurant teams compete to be on the top of the dynamic ranking screen which in itself, drives operational improvement and speed to the customers.
---
SQSRM Pure Timing System Specifications
Microsoft® Windows® OS
Intel® Atom™ processor E3815
60GB SSD Hard Drive
2GB RAM
4 x USB ports
10/100/1000 Mbps Ethernet port
Multiple VGA Outputs
Fanless Design
240 volt 50 Hz operating voltage
Loop Detector Inputs
12 x normally open individual active inputs. Voltage free.
Monitor Outputs 8 x Remote H.264 digital monitor outputs.
---
Click to see the full list of Summit Pure Timing System features
Network configurable for Interstore Ranking Performance competitions.
Supplied and installed with unique rolling screen display for Ranking and Dynamic Live Lane data display.
Full pictorial store layouts.
Comprehensive reporting capability to the in-store printer or for head office requirements via standard data networks.
On screen colour coded data displays.
Comes complete with onboard USB Vehicle / Loop Detectors (a worlds first!).
No more old outdated loop detection arrangements.
SUMMIT'S UNIQUE USB VEHICLE DETECTOR / LOOP MANAGEMENT SYSTEM:
USB Vehicle / Loop Detector facility makes ongoing maintenance more cost effective to manage as all loops can be reviewed remotely.
USB Vehicle / Loop Detector allows for individual loop data to be logged for easy reference from a remote central point via the net or standard data networks.
USB Vehicle / Loop Detector allows more accuracy in diagnostic and off site remote reconfiguration of your loops as they deteriorate over time – Loops can now be remotely adjusted to suit inductance.
Infinite electronic setting on the USB loop detector to cater for those unusual loop behaviour patterns in your lanes – all done remotely no more expensive site visits!
The SQSRM PTS timer is supplied with 4 onboard USB detectors thereby catering for most of your drive thru requirements.
The SQSRM PTS timer has critical audio paths for improved store operational SOS performance.
Dynamic real time information display of your lane performance includes automatic SMS or Email critical assist warning message to area managers or store operators.
SQSRM PTS software is proactive while other timers are only reactive in their performance.
Secure, dedicated iPhone, iPad or Windows software compatibility.
Full solid state system has no moving parts.
A proven and extensively tried system that has no peers in performance.