The STIQUI Timer is easy to use and manage; it allows you to simplify shift management by taking risk and human error out of the equation of running your business. This is an automatic timing device with very sophisticated software.
Located throughout the store are key timing points which give audible and visual cues to staff. Should a designated person, for example; who is to perform that duty is late, an audible buzzer will sound with visual indication advising a failure of their task. Critical areas of product quality control, food safety control and control of secondary shelf life will be virtually error free using the STIQUI Timer. The system further enhances the store operation by better managing these processes – as all the data is logged and can be reviewed either at store level, head office level or remotely. The system and software is both quick as well as easy to configure by store managers or authorized staff and is password protected.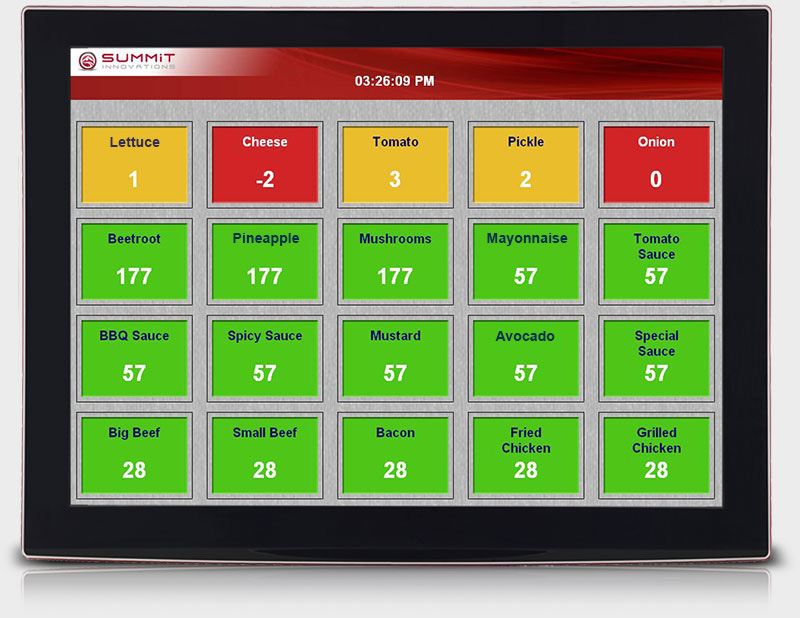 Unique and innovative features:
Dynamic and fixed schedules.
Scheduled or Pre-Defined times can be set for individual points.
Each individual point can be updated via the network.
Single button control for staff, press once to acknowledge, press and hold to clear.
L.C.D screen at each point with visual warnings.
Each point can be configured to the end users requirements or pre-defined alerts can be set.
Promotional information can be programmed to alert staff of short term changes to duties.
Alerts can be displayed on monitors throughout staff & kitchen areas as secondary alerts.
Cables via standard Cat 5/6 cables on a loop in, loop out basis.
Ranking capable, where achievements and goals can be ranked against other restaurant's (networking infrastructure conditions apply).
STIQUI timer can use your existing Summit Drive Through Timer logging all actions and data functions.
This system is particularly effective in:
Deli's with fresh and perishable items.
Dress bench product times.
Wash up and sanitiser sink timers.
Travel path times for shift managers.
Cloth bucket timers for service and production areas.
Reach in freezer product timers.
The STIQUI Timer integrates seamlessly with the Summit Everest Dash.
Managers can use the reports to track goals and ensure that staff have achieved their duties on time, no more "Oh, I forgot to re set the clock" excuses, the Summit STIQUI timer does it for you.