The Summit Dynamic Ranking System is designed to display, in real time, the drive thru ranking order of restaurants in the same chain.
The system is so fast, it displays updates live as each car departs the drive thru, so the data is always current and reports meaningful data. The Summit Dynamic Ranking System is designed to indicate national or global performance and highlight the top performers. This ranking system is dynamic, live and updates after every car. This is an excellent tool for crew and management motivation. The Summit Dynamic Ranking System is based on CSS – Contact Service Speed. This is calculated by adding your contact points together. These points are your COD + Your Cash window time + your Pick up window time = CSS For example if a car comes through your Drive thru and take 10 seconds to order at the COD, then takes 10 seconds to cash at the cashier window then a further 10 seconds to collect the order at the pick up window then your CSS would be a total of 30 seconds. The Dynamic Ranking will average the cars for the last hour and that will be displayed as the current CSS. This result is updated immediately after every car.
---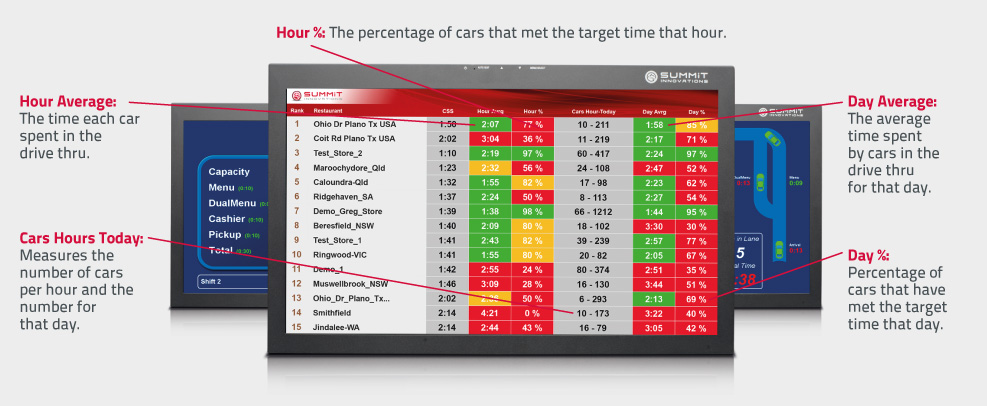 Depending on the store requirements, the Summit Ranking System has the ability to rank on different criteria with multiple options and ranking functions.
Real time ranking
Ranking after each car
Multiple options with ranking functions
Colour and interactive screen
Ranking group options, ie. State only, National, area or specific
Powerful motivation tool
The Summit Dynamic Ranking system report provides an in depth analysis on the performance of the drive thru system by supplying a full breakdown including entire results, each monitored point on the drive thru at any moment of the day, 7 days a week.